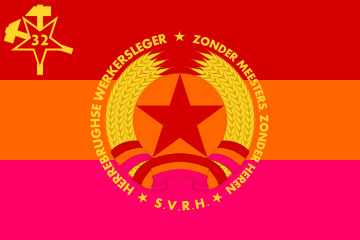 The Herrebrugher Workers' Army of
Liberal Democratic Socialists
Open-Minded Education State
Het Volkslied
Ter nagedachtenis aen de bevryding van Herrebrugh op den negenentwintigsten ende den dertigsten oktober tweeduyzend ende dertien.
Gants Herrebrugh dankt degenen, welke al hunne capaciteyten inzetten voor de veyligheyd onzes lands ende volks.
GeŽerd zy:
De organisaties:
Het Weetenschappelyk Instituut te Jozefstad
De Anti-Zombie Brigades
Ende de landen:
Corujea
The Saint James Islands
Haltari
Ratateague
Egalitarian Calcova
Ritchardville
Alexanderburn
Riasy
Kandorith
Suceavija
Andrade
Lemur Isles
WA Delegate of Ritchardville II
Blue Flag
Esethax
Marxist Zombie fighting solutions
Nabatea-Petra
Onirianc
De Duitsche Democratische Republiek
Het Groot-Duitsche Ryk
De Zeven Vereenigde Nederlanden
De Unie van Sociaelistische Sowjetrepublieken
Nimmer zal dit dankbaere volk uwe hulp vergeeten!