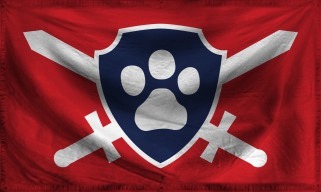 The Ravenous Viking Mauraders of
Father Knows Best State
Suspiciously Conservative Democracy
Government
Autocracy
The nation does not hold democratic elections.
Society
No Marriage
Marriage is prohibited.
Law & Order
Capital Punishment
Citizens may be executed for crimes.
Corporal Punishment
Criminals may be ordered to undergo physical punishment.
Conscription
A period of military service is compulsory for all citizens.
Gun Ownership
All citizens are required to own a firearm.
Economy
Capitalism
Private industry is permitted within a market-based economy.
Maternity Leave
Women receive paid leave from employment for childbirth.
Cannabis
Cannabis may be legally purchased.
Nuclear Power
The nation is nuclear powered.
Metricism
The state mandates the use of the metric system.
International
Weapons of Mass Destruction
The nation claims the legal right to use WMDs.